Travelling with a medical condition doesn't need to be a burden. Instead, you should still take the opportunity to visit the world and find all the amazing attractions you'll love. If you're looking to venture abroad in the near future with a medical condition, one of your first thoughts should be arranging travel insurance.
This insurance is there to protect you. From paying out for lost luggage and stolen possessions, to arranging your medical fees overseas, insurance will safeguard you on your travels. Remember, it's there for a reason. If you were to be injured or taken ill abroad, medical expenses could skyrocket. The cost of care and treatment in hospitals could easily stretch into the thousands of pounds and unless you want to foot this bill, insurance is vital. There's also the bonus of being returned home if you're receiving treatment and miss your flight.
Don't believe the almighty costs you could face overseas? Well, the Foreign and Commonwealth Office suggest it would cost:
• £15,000 to £20,000 to have a doctor with you onboard from Australia to the UK.
• £12,000 to £16,000 for an air ambulance to bring you home from the Canary Islands.
• £35,000 to £45,000 for a medical evacuation from the United States.
Disclosing your medical condition
If you're travelling with a medical condition, you may think it possible to negate the costs of insurance by simply not declaring it on your application form. When you apply for travel insurance you'll be asked to state if you have any past or current conditions. Failing to mention these would not be advised.
Why? Because of the fact that insurance contracts come under the principle of uberimae fidei, otherwise known as ultimate good faith. What does this mean? In essence, the contract is only eligible if all details have been correctly provided. You need to be completely transparent and honest with your travel insurance provider.
For your insurance contract, this means failure to notify the provider of any medical conditions could invalidate your claim. The insurer is perfectly entitled to do this and if you haven't been honest in the first instance, you'll be caught out. You wouldn't be covered for your trip and any expenses will be down to you to foot the bill for.
In order to comply with your travel insurance terms and conditions therefore, you need to be as honest and accurate with your medical condition as possible. Disclosing this offers the most protection for you when travelling abroad.
If you don't disclose your condition, an insurance claim could be rejected later down the line. If in doubt, insurers can ask to see your medical records. Simply put, it's not worth the risk.
Vaccinations & visas for travelling abroad
When travelling overseas, there are two popular questions in regards to vaccinations and visas. What vaccinations can I have with my medical condition? Do I need a particular visa to travel to this country?
Arranging medical vaccinations
Vaccinations are required for both completely healthy travellers and those with a medical condition. They're designed to protect you from foreign diseases and illnesses you could come into contact with on your travels. These jabs will vary depending on the region of the world you're visiting.
Vaccinations fall into two categories – those that are mandatory before visiting the region and those that are simply advised. For those falling into the mandatory category, it's just as much of a benefit to you as the country. Also, if you're visiting a particular region, you may be advised to have vaccinations to protect you from diseases you'd be most at risk from. This can include typhoid, yellow fever and hepatitis.
For an up-to-date and complete list on the vaccinations you need when travelling to a country or region of the world, see the NHS website. If it's a mandatory jab, you'll need to carry an International Certificate of Vaccination of Prophylaxis (ICVP) to prove you've had it.
For those with a medical condition, there could be a degree of risk by having the vaccine. This may limit where you can travel. As such, you should find out which vaccines could impact on your health.
There is a fee to pay for most vaccinations and these will be arranged at your local GP surgery. However, some vaccines will be issued for free. These include:
• Diphtheria, polio and tetanus combined
• Typhoid
• Hepatitis A
• Cholera
There's also the chance you'll need a booster to vaccines you had at school. Vaccinations should be topped up every 10 years and your GP can check the records to quickly find out what's needed for travel.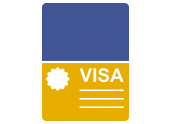 Travelling with the right visas
As with vaccinations, visas are often another stumbling block. However, the regulations for applying for a visa remain the same, no matter if you're healthy or have a medical condition.
Visas vary from country to country and for instance, you wouldn't need one when travelling Europe. However, in both the US and Australia they're mandatory. For this reason, you'll need to contact the Embassy or High Commission in London, who'll be able to provide you with all the information you need. There are 124 countries in total that require British citizens to have a visa, so make sure to do your research.
You should also be aware that some visa applications can take a long time to process – weeks and even months in some instances. Therefore, ensure your travel plans are based around this and don't arrange to leave the country without having sufficient time to apply for the visa.

Taking medical supplies through customs
Not only do you need to make your way through a busy airport when leaving and coming back to the UK, but you'll also want to ensure not falling foul of any customs regulations. For those in good health this can be tough enough. However, for those with a medical condition, the process can be even more difficult because of rules and regulations.
So, why is it such a problem? Simply because there are various laws of what medication can be brought in and out of a particular country – and all countries seem to take a different approach. Of course, this is all down to countries trying to prevent illegal drugs trafficking.
It would be impossible to try and list every medication under the sun and state what is and isn't accepted. Therefore, you need to carry out your own research prior to travelling. You can then plan ahead and reduce the risk of being caught out last minute by a drugs law in the country you're visiting. Remember, it is up to you to get this right. See the government's advice on travelling with controlled drugs.
Codeine is one example where drugs laws differ around the world. In the UK, codeine is commonly used in medicine and sold over the counter at most pharmacies and chemists. However, the same drug is banned in many countries globally. This is just one example, but by speaking to your doctor, you should be offered alternatives to your medication if it falls foul of international laws.
You should always ensure drugs are clearly labelled and you have a doctor's letter to hand stating they're required for your condition. Also have copies of the prescription on you, so you're able to get more when abroad.
In order to pass airport security quickly and with as little hassle as possible, take a look at our tips:
• Leave all medication in its original packaging, where it is clearly labelled.
• Try to avoid taking unmarked boxes or bottles to the airport.
• Be ready to answer questions at customs on the medication and have a doctor's letter, plus prescriptions.
• Contact the airline in advance if you have medication that needs to be kept refrigerated.
• Get in touch with the airline early on, so any problems can be avoided.
• Check with the country and customs where you're visiting to find out what's prohibited.
Being prepared and knowing what is and isn't accepted internationally, will help you negotiate airport security and travel to and from your holiday destination conveniently.
For more information, please see the following links:
Can I Take My Medication Abroad?
http://www.nhs.uk/chq/Pages/1074.aspx?CategoryID=70
Emergency Telephone Numbers:
https://en.wikipedia.org/wiki/List_of_emergency_telephone_numbers
Tourist & Short Stay Visas:
https://www.gov.uk/browse/visas-immigration/tourist-short-stay-visas
Travel Vaccinations:
http://www.nhs.uk/conditions/Travel-immunisation/Pages/Introduction.aspx