If you're thinking of travelling with high blood pressure, then it's important to have the right travel insurance cover to protect you in the worst case scenario.
Travel insurance to cover high blood pressure does not need to be expensive; at Insurancewith we have a specific medical screening tool for people with medical conditions such as high blood pressure. If your blood pressure is well-controlled, in many cases there is no extra premium to pay to include high blood pressure cover on your travel insurance policy. You can also include cover for other medical conditions on this policy, these can be conditions you have a result of having high blood pressure or conditions that are completely separate.
Can I get travel insurance with high blood pressure?
The short answer is, yes! Being diagnosed with a condition like high blood pressure shouldn't mean you stop living your life, and that includes going away on holiday! Although high blood pressure often isn't seen as a major medical condition (it's so common, after all), it's important to declare it on your travel insurance policy in case of any linked conditions. This ensures that should the worst happen, you know that you have that peace of mind that you're covered and the insurer won't void your claim because you missed it off of your policy!
Overall, finding travel insurance for any medical condition can be more expensive and more difficult than if you hadn't declared any conditions.
At Insurancewith, we work differently to the rest of the market. Our founder, Fiona, found that often travel insurance policies for people with medical conditions either weren't available or were prohibitively expensive – often costing more than the price of the holiday itself!
Although we ask a few more questions than other providers, getting the right kind of cover on your travels is important. Here at Insurancewith, we do more than just insurance. We'll make sure you're cared for from sale to claim.
Policy Benefits
There are a series of benefits which come with taking out one of our policies. Some of the most helpful for you include:
£10 million cover for medical emergencies
Cover for repatriation
Emergency helpline 24 hours a day, every day of the year
Bespoke medical screening
Personalised medical screening for more complicated or serious cases
Discounts for couples, families and single parent families
Winter sports policies available
Cruise policies available
Worldwide cover available provided you are not travelling against the advice of the Foreign & Commonwealth Office
300+ sports and activities can be covered, many at standard terms
14 day cooling off period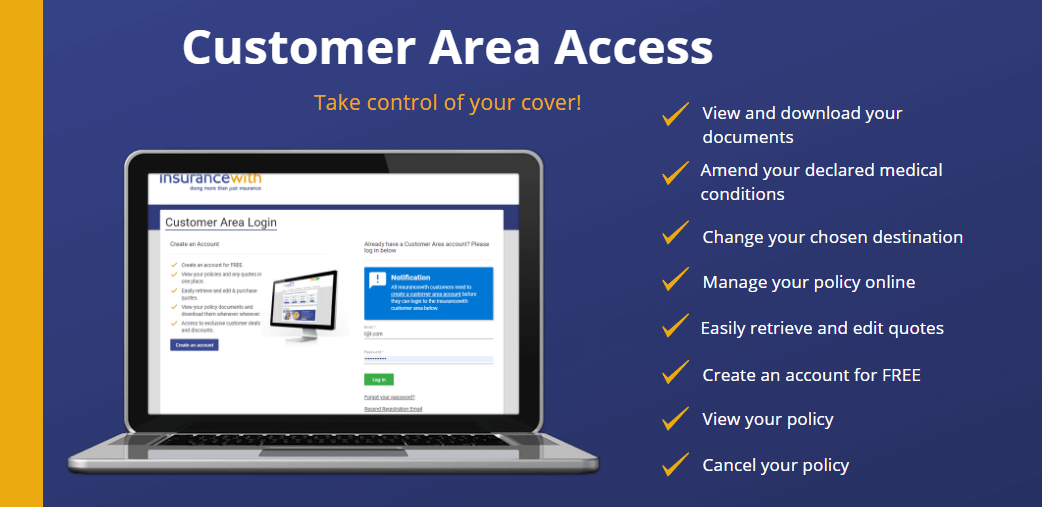 *Based upon Trustpilot's 2019 data.