Winter sports holidays provide us with the opportunity to try something totally different to your standard holiday. Packed full of high octane action from start to finish, skiing and snowboarding are truly a unique experience.
But amidst the fun, you'll want to guarantee you have the right level of winter sports travel insurance to protect you and your trip. These are extreme sports, after all. Whether it's your first time hitting the slopes or you're a seasoned pro, you'll want to make sure you're covered for the essentials – and our specialist, dedicated winter sports policy does just that, and a bit more.
Why do you need winter sports travel insurance?
We won't mince our words. The risk of getting hurt while taking part in a winter sports activity is much higher than on any other type of holiday.
With a heightened chance of injury, it's crucial you do what you can to protect your family and yourself against medical expenses which have the potential to rack up into the thousands.
You may also want reassurance that your policy covers you for any winter sports equipment you may have hired or purchased, accidents happen.
It is more common for legal costs to be incurred following a winter sports accident, having winter sports cover provides you with that added protection, should you be faced with any unwanted liability charges.
What Is Included In Our Winter Sports Policy?
There are a number of benefits to taking out a winter sports policy with the Insurancewith team. Just some of the best include:
Cover for medical conditions at realistic premiums
On and off-piste cover as standard
24 hour emergency medical helpline, available 24/7, 365 days a year
Medical emergencies, repatriation and mountain rescue included as standard
Cover for ski equipment
Piste Closure
Up to 94 days cover for anyone up to the age of 115 for single trips only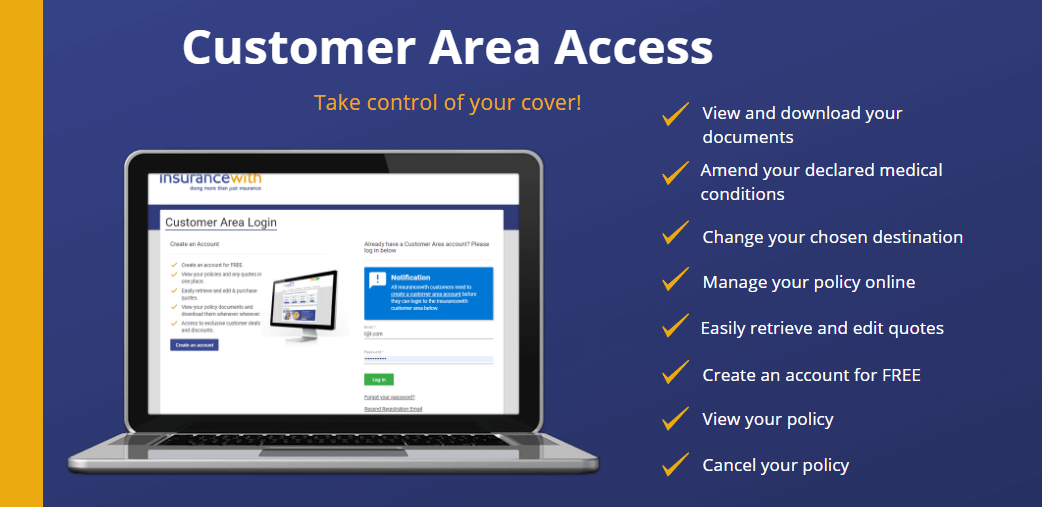 ¹ Based on Trustpilot data from 2023
☆ Insurancewith Awards Won: Finalist in the UK Broker Awards, 2011. Winner of Insurance Times Innovation of the Year Award, 2013. Bronze Award Winner for Best Travel Insurance Provider at British Travel Awards, 2016. Customer Champion of the Year at the Insurance Times Awards, 2017. Plus, our founder Fiona Macrae was awarded the Consumer Marketing and Awareness Award at the Chartered Insurance Institute (CII) Public Trust Awards, 2018
ᶤ Coronavirus cover includes cover if you need to cancel within 14 days of your trip or curtail your trip early as a result of a positive COVID test, and cover for medical expenses related to a coronavirus diagnosis during your trip. Any further cover can be purchased within the optional COVID-19 Extension. More information can be found here
*Please note, Insurancewith's online prices automatically include a 15% discount against our Customer Service Centre prices. This code entitles you to an additional 5% off your policy, and is a discount from the base price, not including the additional cost of optional extensions or any additional medical premium