Many people who have been diagnosed with cancer are living a (relatively) normal life and are able to carry on as they did before their diagnosis.
An essential part of leading a normal life involves going on holiday, and this is where problems can arise, because not only is it hard to find travel insurance with cancer cover but when you do, the premium quoted could be more than the cost of the holiday!
Insurancewith offers a range of policies specifically designed for those with a cancer diagnosis, by people who have experienced the condition themselves first-hand.
How easy is it for people with cancer to get travel insurance?
Often, people with a cancer diagnosis can find it harder to get cover for their holiday. If you can find a policy to cover you, it can usually cost more as often insurers see you as a higher risk for making a claim than someone with no medical conditions.
At Insurancewith, we work differently to the rest of the market. Our founder, Fiona, found that often travel insurance policies for people with cancer either weren't available or were prohibitively expensive – often costing more than the price of the holiday itself!
Although we ask a few more questions than other providers, getting the right kind of cover on your travels is important. Here at Insurancewith, we do more than just insurance. We'll make sure you're cared for from sale to claim.
Policy Benefits
There are a series of benefits which come with taking out one of our policies. Some of the most helpful for you include:
£10 million cover for medical emergencies
Cover for repatriation
Emergency helpline 24 hours a day, every day of the year
Bespoke medical screening
Personalised medical screening for more complicated or serious cases
Discounts for couples, families and single parent families
Winter sports policies available
Cruise policies available
Worldwide cover available provided you are not travelling against the advice of the Foreign & Commonwealth Office
300+ sports and activities can be covered, many at standard terms
14 day cooling off period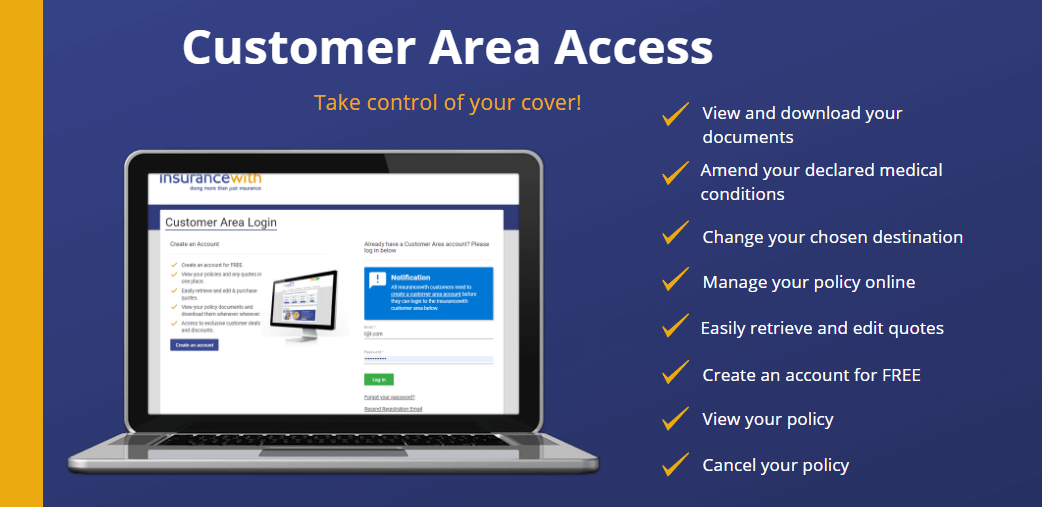 Types of Cancer Covered
We will consider covering all different types of cancer. Shown below are the most common types that we are asked to cover. However, if your particular cancer isn't shown, don't worry, because you can still get a quote by entering your type of cancer when prompted during the quote process and proceed from there.
Alternatively, you can call our Customer Service Centre on 0333 005 1066 and they will be happy to process the quote for you.
Insurancewith has bespoke cancer travel insurance cover for the more common cancers such as:
The Insurancewith travel insurance for cancer patients policy was created by people with first-hand experience of cancer. They really do understand your problems when it comes to buying travel insurance that asks more questions specific to you and your treatment. This ensures that you have the most suitable policy for your needs at the most appropriate price. We also have cancer travel insurance policies for rarer cancers such as:
Speak to a member of our team
Having trouble finding what you are looking for?
Please click on the button below to speak to a member of our experienced and empathetic Customer Service team via Live Chat.
¹ Based upon Trustpilot data from December, 2022
*Please note, Insurancewith's online prices automatically include a 15% discount against our Customer Service Centre prices