Is it time to put an end to chemo bells?
Chemo bells are a controversial topic with very split opinions. Heidi (@storminatitcup) spoke about the subject on her blog not too long ago and it instantly struck a chord with us. So much so, that we decided to join in on the discussion.
The Chemo Bell was originally designed to represent the end of treatment for children with cancer and signifies the better times ahead. It's usually placed at the entrance of radiotherapy wards and welcomes cancer patients to ring the bell after the completion of their treatment.
Although the intentions behind this idea are brilliant (and of course patients should celebrate the end of treatment), it can have an adverse effect on others within the ward. Rather than symbolising optimism and strength, it can highlight the cruel reality that some patients may never get the opportunity to ring the bell for themselves.
There are also people that have to battle cancer more than once and for them, the bell may seem pointless. As for terminally ill patients, they will never be able to ring the bell, yet they have to walk past it every time they enter the ward. Is that fair? Surely that's just a constant reminder that whilst they may be receiving chemotherapy, the focus is on managing the cancer not curing it. The bell itself is loud, so when it's rung, it can be heard throughout the whole ward. Some patients understandably, may not want to listen to the daily ringing's of the chemo bell whilst they continue treatment. All it does is add unnecessary emotional distress – acting as a hindrance rather than a benefit.
For some people with cancer, the thought of ringing the bell is quite daunting. Being cheered and applauded, whilst completely deserving, can be nerve-wracking. The bell is not compulsory, so if you don't want to ring it you don't have to. Instead, you can celebrate in your own way.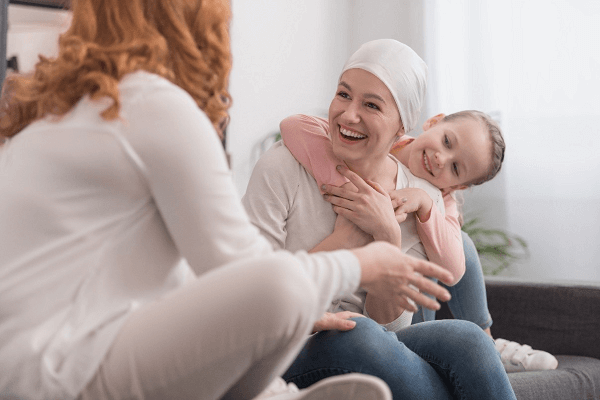 At Insurancewith, we believe your good news should be celebrated. Rather than deeming being 'clear of cancer' as the only thing worth celebrating, take it step by step, day by day and focus on the positive progress you are making.
Being told there is no evidence of disease following scans, being told your cancer is stable following ongoing treatment, being well enough to be discharged from hospital, even knowing you can finally book that much needed holiday! All these things should be celebrated because it's progress. Cancer treatment can seem never-ending with a duration that can be daunting, so celebrate your silver linings and allow yourself to be happy!
When you have cancer, it can sometimes feel as if that's all you are – a patient. With endless hospital appointments, treatments, changes to your body, feeling like you have to keep it together for the sake of your family and loved ones – it can be exhausting. However, your diagnosis does not define you. You are still a parent, a partner, a sibling, an auntie, an uncle, and a friend – the list goes on. Most importantly you are still a human and you are more than worthy to celebrate any good news throughout your journey.
"Cancer can take all of my physical abilities, but it cannot touch my mind, it cannot touch my heart, and it cannot touch my soul." Jim Valvano
Posted on: Aug 14, 2019