Greig's Australian Adventure
We posted a blog last month picking up where we left off with Greig Trout, a double cancer survivor who we sponsor whilst he fulfils his '101 Things To Do When You Survive' anti-bucket list. Travelling round the world, Greig often checks in on his Facebook, Twitter and blog pages so his followers know where he is, what he's been up to and how much of the list he's managed to tick off!
We last left Greig enjoying the stunning Kimberley Coast of Australia, including beautiful Broome and the Horizontal Falls, but now he's ready to move on from Down Under after an amazing couple of months there!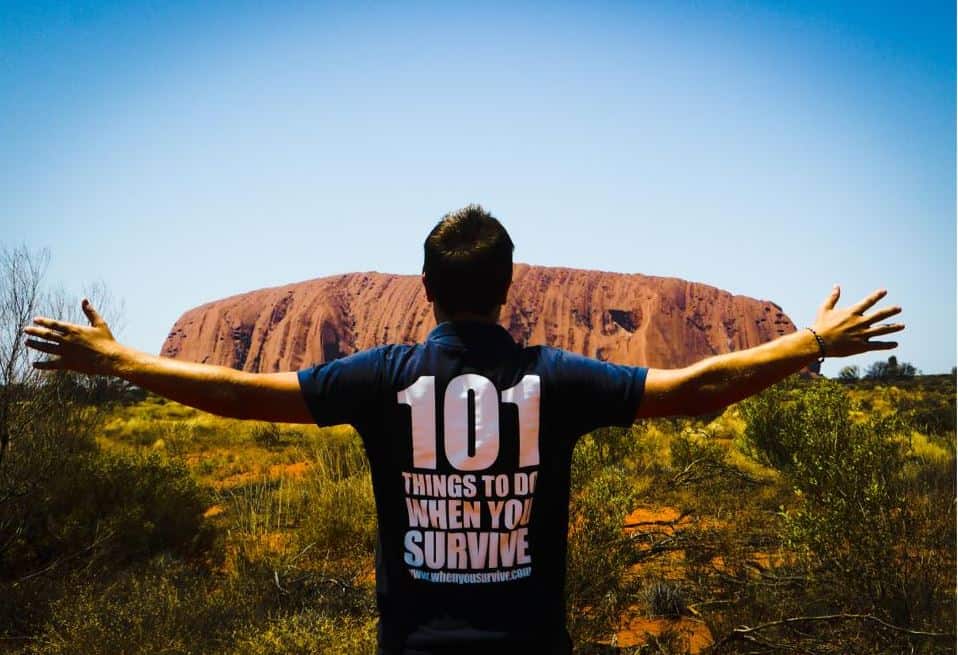 Seeing the sunrise and sunset over Uluru, the big famously red rock in the middle of Australia's outback, is something on most people's travel lists, but Greig managed to see the (albeit cloudy) sunset and seeing the colours of the rock change as night crept up – an amazing sight. Interestingly, you can't climb Uluru as it is a really important sacred site for the local Anangu people, but the walk around Kata Tjuta (otherwise known as the Olgas) is well worth the trip.
Next up, Greig crossed #32 of his 101 Things to Do When You Survive off of his list as he sang The Flower of Scotland at the Sydney Opera House – and on national television, no easy feat! We're really proud of him. Whilst he was in Australia, Greig also learnt the unofficial national pastime – surfing. He seemed to grasp it pretty quickly, standing up on the board and surfing some waves quicker than we would!
Greig didn't just see the sights and learn how to surf whilst he was out in Australia though, he also contributed his valuable knowledge and insight to a couple of amazing organisations. First of all, he paid a visit to The Kid's Cancer Project in Sydney, giving an audience a talk and even learning some stuff himself. The Kid's Cancer Project helps fundraise for research into childhood cancer. Greig visited Westmead Children's Hospital's Oncology Ward with a couple of the members to visit kids currently going through treatment.
He also visited CanTeen, an organisation which provides funding for specialist care, counselling and individual assistance for young adults and teenagers living with cancer. Here, Greig gave a presentation. Greig's story is so relevant to CanTeen's core values, so it really helped inspire a whole new group of people.
Greig now heading to the beautiful land of New Zealand next, and we look forward to hearing more about his adventures!
Posted on: Dec 17, 2014