4 UK Staycations for Individuals with Alzheimer's
As September is Alzheimer's Awareness Month, this month's blog is dedicated to helping those diagnosed live more freely. So, if you're caring for a loved one with Alzheimer's and want to find a staycation that caters to their needs and desires, look no further. These 4 UK staycations have been celebrated for their ability to empower those with Alzheimer's and provide them with an adventure. After all, everyone deserves to travel and explore regardless of medical conditions. Visiting these places may also help to rediscover fragments of their cherished memories if they visited any of these in the past all while basking in moments of joy and relaxation.
1). Broadgate Farm Cottages, East Riding of Yorkshire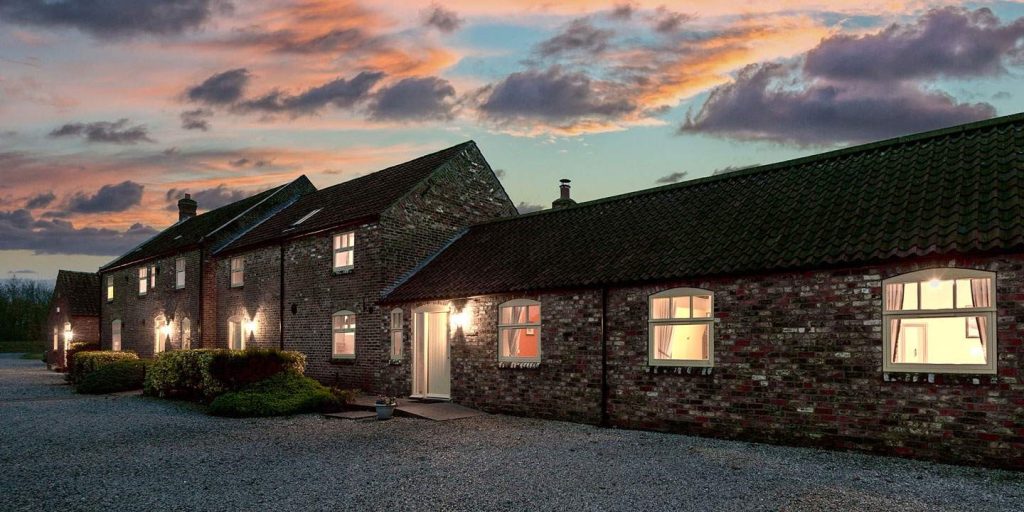 A destination that recognises the importance of bringing familiarity to the places you stay while being away from home is The Broadgate Farm Cottages. Situated on the edge of Yorkshire Wolds these cosy holiday cottages have thought through all areas of their accommodation to make it accessible for all guests. All rooms are situated on the ground floor and have accessible bathrooms and enclosed gardens, making it suitable for individuals with Alzheimer's who can be prone to wandering off. Keeping entertained is easy here as your days can include wildlife and nature watching in the cottage's working farm environment, spa treatments, visits to the local market town of Beverly and much more. For a small charge, pets are also welcome here so if it helps to travel with a furry companion, you can bring them along with you. This is a particularly good idea for guests who travel less often and would benefit from bringing part of their routine and environment with them. All cottages come with fully equipped kitchens to cook your favourite home-cooked meals but if you fancy dining out, the village of Walkington is only a mile away and has a variety of different pubs and restaurants to enjoy.
2. Sladen Lodge, Hathersage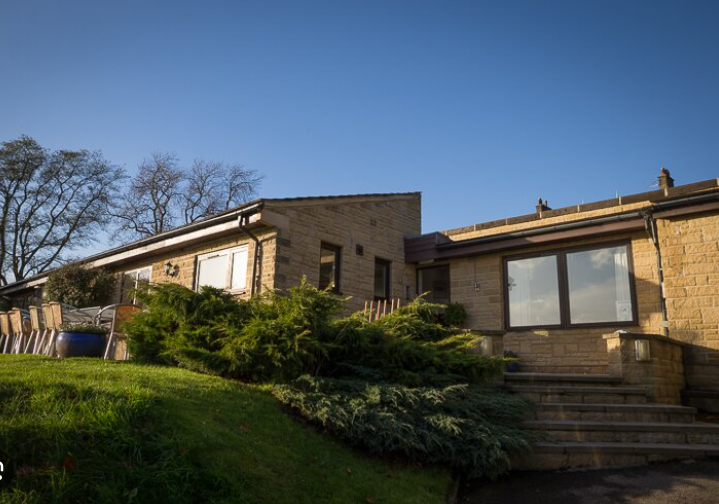 Sladen Lodge is a spacious accommodation in Hathersage. It sleeps between 2-14 people, so if you plan on having a family staycation, this is the perfect place for it. A holiday in the Peak District offers guests stunning village views and plenty of nature walks to observe and enjoy. Being around nature and quiet is good for everyone but has been proven to help relax and improve the mental state of individuals with Alzheimer's. So why not enjoy the Peak District wildlife in the quiet early hours of the morning and start your day watching the sunrise? Accessibility is a top priority here, with all rooms on one level meaning everyone can easily help care for diagnosed loved ones during your visit. There is also a fully equipped kitchen onsite so you can all cook together and enjoy regular family favourites to help them feel more at home. If you are planning to venture offsite, the village centre is a few minutes walk away and has lots of shops, restaurants and pubs to visit. Some of the most popular include The Village Green Café and The Rose Cottage Café and Bistro.
3. Trevassack Lake, Cornwall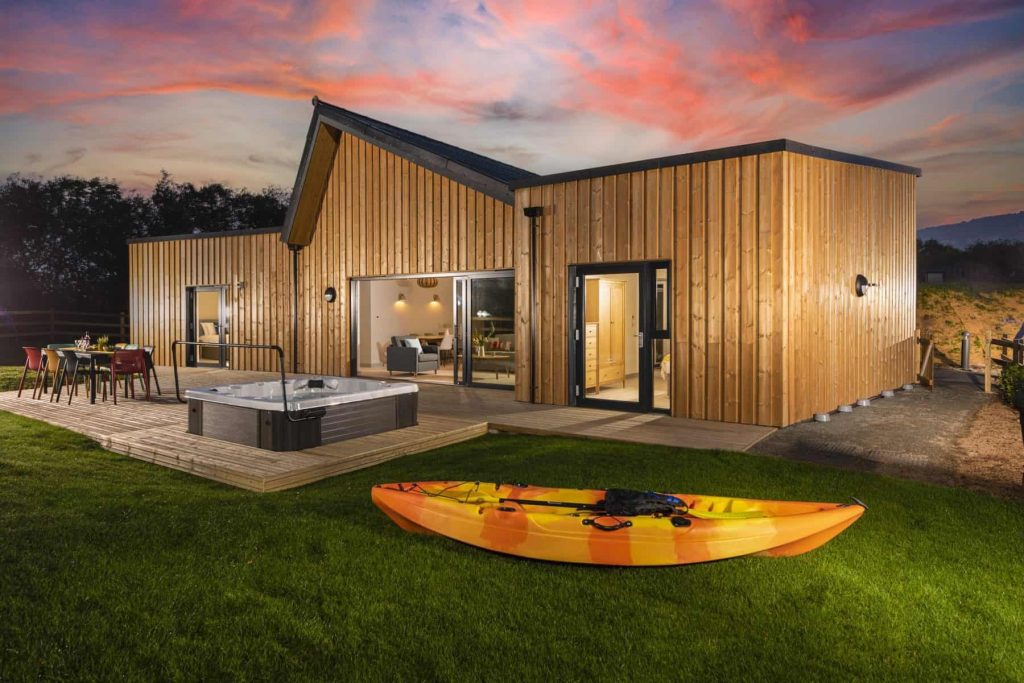 The Trevassack Lake offers three purpose-built luxury cottages. They are all self-catering and accessible but Bradbury House is their best-equipped cottage for those with disabilities. The open-plan living area has a kitchen, dining and seating area and all three bedrooms have fully accessible bathrooms. There are also adjustable kitchen countertops, a slide-and-hide oven and 24-hour access to the road with designated onsite parking for two cars. The cottage has a stunning waterside setting and big picture windows for you to enjoy the view from inside but you can also indulge in the hot tub located on the outside deck overlooking the lake. Located in the South of Cornwall there is lots to do and explore. From Shops, Cornish Pubs and Restaurants and an old riding stable less than 40 minutes away, you can tailor each day to match your moods.
4. Sunset Beach House, Whitstable
This seaside accommodation offers guests stunning views and direct beach access. The quiet village makes the perfect holiday choice for people looking for a more laid-back time away. Accommodating up to four guests and located just two miles from the town centre of Whitstable, you can spend your days watching the sunrise from the huge floor-to-ceiling windows or outside sundeck and then take a walk or ride into town for a bite to eat. There is a wide range of pubs and restaurants as well as market stalls selling fresh seafood. You can also treat yourselves to some retail therapy by exploring their unique boutiques and market stalls that sell seaside souvenirs and gifts.
Before you go here are a few tips for travelling with someone who has Alzheimer's:
Plan – It is important to plan when travelling with a loved one who has Alzheimer's. Some of the ways you can do this include, discussing how you will spend your days so you can locate the most accessible places to go, and mapping out where the services are if you're travelling by car, this way you can make regular stops and checking timetables if you're taking public transport. You can also research where facilities are located and give yourself extra time for any unexpected delays.
Bring essentials – When travelling with someone who has Alzheimer's it's vital that you pack any required medications and items that make them feel safe. That way you can help them the best you can if they become overwhelmed or unwell.
Stay close to home – Staying closer to home is a great option for those who travel less or if your loved one is likely to become irritable on longer journeys. The staycation places above are located all around the UK so you don't have to book flights or take your loved one through crowded airports where they might get distressed or overwhelmed.
Use a sunflower lanyard – The hidden disabilities sunflower is a great way to help those around you become aware of a condition or disease less noticeable. If you think this will help make your travels easier, you can buy these online here: https://hdsunflower.com/uk/
Take regular breaks – Taking regular breaks during your journey will give everyone a chance to take a breather. You can plan these breaks by locating where the local petrol station, services and coffee shops are along the way. After reaching your destination breaks can look like down days, where you spend time relaxing or taking part in activities that allow you to stop if need be.
Locate local facilities before booking – Make sure you note down nearby facilities like accessible bathrooms, local hospitals, pharmacies and places to explore.
Implement routine – It is a good idea to try and stick to your loved one's regular routine as much as possible while on holiday. This will help to ease any anxiety they may have about being in a new, unfamiliar, place. For example, if your loved one is used to going for daily walks or having lunch and dinner at similar times, try and keep this the same.
Now you can book a staycation for yourself and your loved ones and stay reassured that all their needs will be accommodated. Once you have found the perfect location for your trip, don't forget your travel insurance cover. Our travel insurance covers you for UK staycations with a minimum of two nights away from home and includes cancellation cover, over 100 sports and activities covered as standard, discounts for couples, families and single parents and so much more. Click here to browse more policy benefits.
Posted on: Aug 29, 2023