The Most Accessible Ski Destinations
As ski season approaches, a popular question is, where should we go? With a vast number of destinations available, we've founded the most accessible places to go on your adventure this 2019.
Chamonix Mont-Blanc, France
Chamonix is one of the most renowned skiing destinations in the world, home to Mont Blanc (4,807m), the highest mountain in Europe. It is easily accessible, just a 60-minute flight from Gatwick to Geneva Airport.
There are five ski resorts within Chamonix- Grand Montets (arguably the most popular), Les Houches, Le Tour/Balme, La Flegere and Le Brevent. Les Grand Montets has an impressive 2000m of terrain divided between three zones; the lower mountain, mixed alpine terrain running from Lognan to Bochard and steeper alpine terrain (for those with considerable skiing experience). This resort operates using eight lifts, three of which will take you to the beginner trails.
At Insurancewith, we always advise you choose a trail that best suits your skiing ability, accidents are common, so stay safe and know your limits!
Disabled Skiing
Chamonix is the perfect destination for people with disabilities, providing the opportunity to try everything, both in the town and in the mountains.  The mulet (free shuttle bus), buses and trains are all wheelchair accessible as are the the lifts operated throughout each of the resorts.
When it comes to skiing, the resorts cater to a diverse range of disabilities, providing specially adapted equipment including UniSki, DualSki, Armchair Skiing and Ski-kart. Rest assured there are qualified Handiski instructors on hand to teach you how to safely use each piece of equipment to ensure maximum enjoyment during your time on the slopes. It is advised that if you do require adaptive equipment, you book at least 15 days in advance to ensure it is available during your stay.
What to eat?
There are eateries dotted throughout each of the resorts, as well as a number of villages intertwined within Chamonix (the largest being Les Houches). Here you'll find the ideal spots to wine and dine after a long day on the slopes. The town is heavily pedestrianised, providing easy access to all restaurants.
Dining in Chamonix is an experience your taste buds will never forget.  The cuisine is so varied you'll be sure to find something for even the fussiest of eaters. From regional specialties including a luscious cheesy fondue, to delicious pulled pork burgers that will warm you up during the cold winter evenings, we guarantee the food will be one of the (many) highlights of the trip.
Accommodation
Chamonix offers a wide range of self-catering apartments, residences and chalets, ideal if you enjoy your independence on holiday and want to pop into town to indulge in one of the forty restaurants available. Within each of the resorts there is the option to order food, or, even hire a personal chef! What better way to relax in the comfort of your own warm and cosy chalet, after a tiring day skiing down the mountain.
If you'd prefer to stay in a hotel during your stay, there are a number of 5* hotels situated within Chamonix centre, all offering wheelchair access. This is the ideal spot if you want to be in the middle of the action, plus it gives you the perfect opportunity to live like royalty, enjoying Michelin Star chefs presenting you with their masterpieces to top off the surreal day.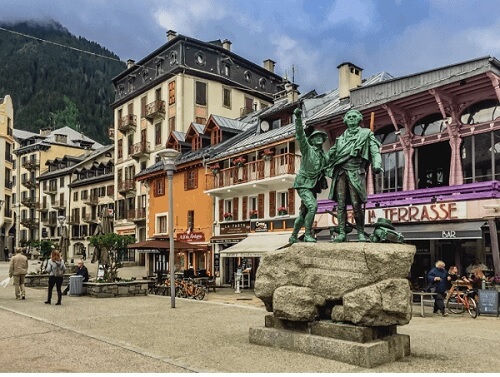 Whistler, Canada
Whistler is another popular destination to ski, with around 3 million visitors each year. Situated just an hour from Vancouver, its stunning views and incredible terrain make it the ideal destination this ski season.
This picturesque resort exceeds 8,100 acres of snow-covered slopes and offers over 200 marked trails, providing a constant change of scenery and new challenges…guaranteed to entertain even the harshest of critics.
The resort has held on to a number of traditions throughout the years, whilst gradually transitioning from a mountain for the locals to a ski, to a destination with a European twist – it really differentiates itself from other North American Resorts. However, one tradition that certainly hasn't changed is the vast availability of waffles drizzled with warm milk chocolate served on the mountain, which is no surprise given that they're delicious, don't you all agree?
Disabled Skiing
Whistler has an incredible adaptive ski programme, making skiing accessible no matter your disability. What's so amazing about this programme is that whilst it caters for those with a physical disability providing stand-up skis and adaptive snowboards (to name a few), it also provides assistance for those who are autistic, or visually and/or hearing impaired.
If you're a beginner and feel like you need a little guidance to build up your confidence before you hit the slopes alone, there's a Ski and Snowboard School available where the instructors are world famous and provide exceptional support, to ensure you get the most out of your trip.
A change from skiing
A skiing destination doesn't mean skiing all day, every day. If you're after a birds-eye view of the breath-taking scenery then the glass bottom Peak 2 Peak Gondola experience (wheelchair accessible) will leave you entranced. Be transported over forests, mountain peaks, lakes and glaciers in the best seats in the house, uncovering the true beauty of Whistler. Enjoy dinner in your personal pod, promised to be a trip highlight.
Whistler Village is the gem of this skiing resort. Its charming nature makes it the ideal place to relax with family and friends- from restaurants and dining to shopping and spa days, there's really something for everyone. Immerse yourself in arts and culture at the Audain Art Museum (a hot spot for those with creative minds), or take a dip in the jacuzzi at a wellness spa, giving your body time to recover from all the long days on the slopes.
When it comes to dinning, you won't be limited on choice. From tapas to grills, you're sure to find something hearty to fill your rumbling stomachs, having exerted so much energy throughout the day. If you fancy food on the go, there's a number of options, from French crêpes to pizza by the slice, so you're sure to find something indulgent. If you're after a quiet night in the comfort of your chalet why not pick up a takeaway- that's right, they've got a Dominos- it's like home away from home!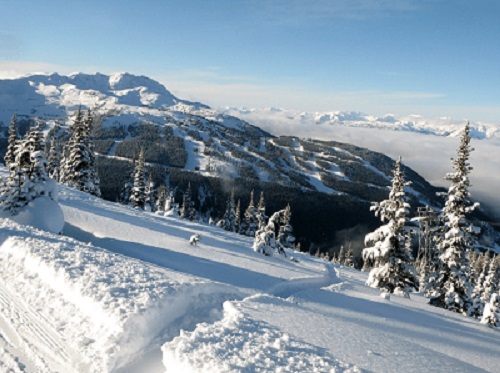 Wintersports are a common cause of accidents, so it is paramount you have travel insurance to protect yourself from those unexpected incidences. Insurancewith offer a Wintersports policy including affordable cover for medical conditions and medical emergencies, repatriation and mountain rescue if necessary (included as standard). Click here for more information.
Posted on: Feb 05, 2019